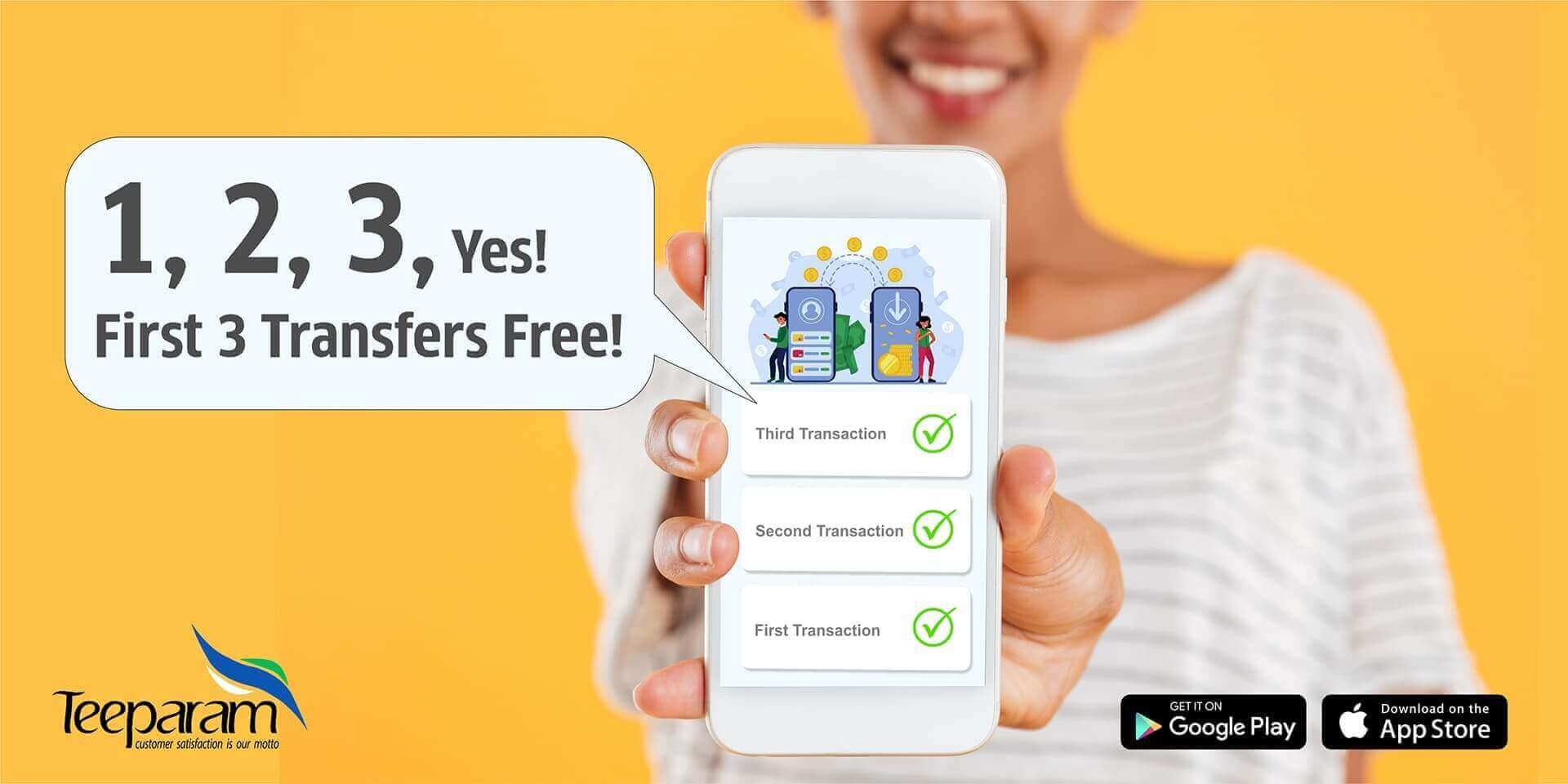 1, 2, 3 Yes! First 3 Transfers Free!
London isn't any time short of money exchange and transfer Services Company, apart from them there are a handful of banks that provide transfer services at every nook and corner, but as the saying goes, how many of them provide a fee-free money transfer or moreover a free transfer? Well, you know the answer better! Not many!
At Teeparam Exchange we are playing this game in a different manner that makes us stand out from the rest of our competitors. We are offering the first 3 transactions for free! Yes! You are reading it right, we're offering a fee-free transfer for the first 3 transactions that you make. Because you always deserve better.
With Teeparam Exchange your first 3 transactions are free!
  Your first three transactions are free
  We are quick and reliable
  The beneficiary receives the money on time.
  No hidden charges
  We value you!
Are you planning to make money transfers or remit your money to your loved one, friends, family members or close acquaintance, at this crucial time, well! We have you covered up and make your process quick and easy.
Why Choose Teeparam Exchange for your first 3 money transfers?
Teeparam Exchange is perfectly positioned to comprehend, the direction and action on transferring money to your loved ones most easily and securely.
  We have improved exchange rates - Enjoy the best exchange rates and low fees on transfers to Colombo, Sri Lanka 24 X 7, every day from Croydon.
  Exchange rates and transfer times within seconds, saving you the hassle of stress. Our service is 100% free-to-use for all customers
  We provide same-day transfers and the recipient receives them in a minute.
At Teeparam Exchange, we take every step to value our customers. We keep them on the top priority, and the safety of our customers always comes in first. For that reason, we have changed the way to transfer money for your safety. Instead of coming to stores in this pandemic situation, use our reliable money transfer app and send money to your loved ones. All transfers are securely encrypted to give you peace of mind. You can also refer your friend and earn £5
How to avail this offer?
You just need to follow the given steps!
1.Start your transfer: Pay with your debit card or credit card, or send the money from your online banking.
2.Get the best rate out there:Teeparam always gives you the real and fair mid-market exchange rate.
3.Money is locally delivered:The recipient gets money in their currency directly!
Conclusion:
Are you looking to avail this excellent offer and send money to your loved ones? Then, just come forward to use this opportunity, don't lose it out like England Football Team as every transaction you make is as a crucial scoring of like penalty kicks, and let these 3 free transfers help you mightily which wasn't case that happened on the night of 19th July. Use the offer and have a great and free transfer!