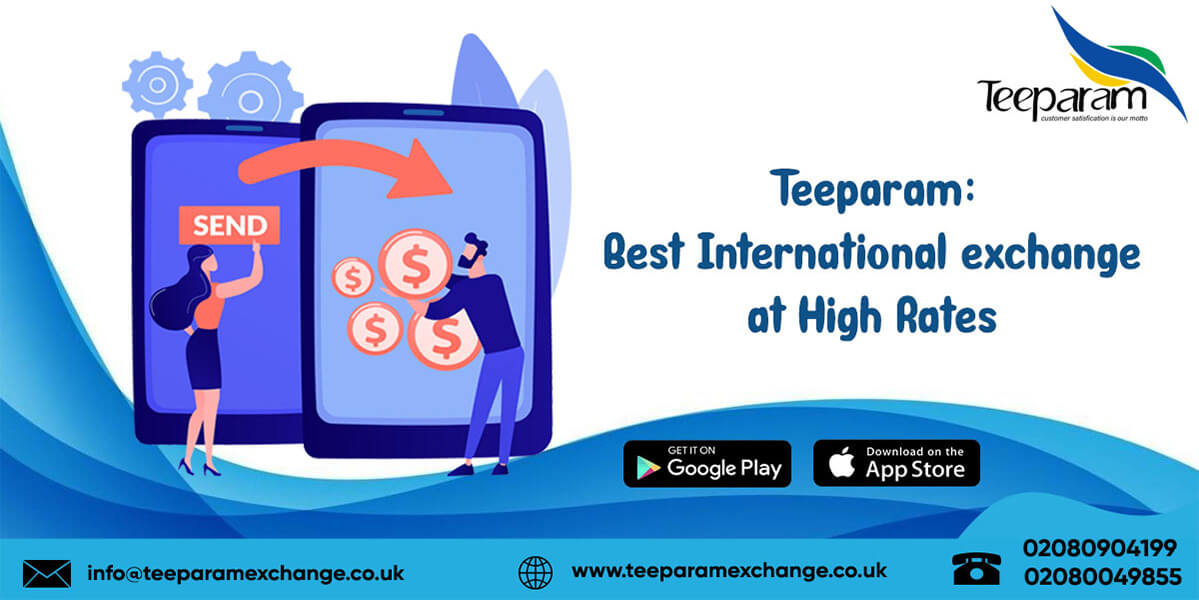 Teeparam exchange: Best International exchange at High rates
Teeparam exchange can be affirmed as the best international exchange in today's market trend. Do you know why? Let's delve deeper to know about the services offered by Teeparam exchange and know what made it evolve as the best international money transfer app.
For any money transfer service, the top priorities that make it succeed in its market its user experience, efficiency and security. Apart from all these priorities, what made Teeparam the best international money transfer app that remains in people's minds as the best way to send money internationally
What can it be? Is that advanced features, top-notch security protocols or its immersive user experience with simplicity? While digging deeper, the analysis shows that Teeparam offers higher exchange rates and low transaction fees are the two major factors, along with all its world-class features that made Teeparam become the best money transfer app that allows people to send money online instantly across international borders with utmost efficiency. Yes! Teeparam actually offers higher exchange rates compared to other international exchanges. This benefits the customers in making international transactions over the long run. This means if a user transfers 1000 pounds to his family in Sri Lanka, the actual conversion rate will be 4,34,254.95 Sri Lankan rupee.
But the Teeparam offers higher exchange rates which mean 4,34260 approx. The currency and the value which is mentioned is just an assumption, not an actual rate. This supports users largely while transferring huge amounts and will have a measurable saving over the long run. This supports many international businesses to transfer huge funds across international borders effectively in a secured ecosystem.
Teeparam Exchange follows top-notch security protocols to offer the most secured ecosystem for making international transactions. This supports people to trust in the services of Teeparam exchange and engage with Teeparam to make bulk transactions across international borders. As Teeparam is dealing with confidential credentials and huge funds, It follows all the essential security protocols for data prevention.
Teeparam follows the encryption protocols to secure the data from hacks. Encryption is the first and foremost level of data protection followed by most online platforms to prevent the data from the process of Encryption. The process involves encrypting the data to meet privacy and security compliance and keeping data secured from hackers.
Encryption is the process of converting plain text to cypher codes using a specific hash key which can be deciphered using the same hash key. Teeparam online money transfer app encrypts all your credentials and transaction history to ensure security and prevent data loss and hacker penetration. Teeparam also follows more advanced security protocols to manage the funds and process them accurately without any failures.
Another major factor that makes Teeparam the best international money transfer platform is its simplified user experience. As the money transfer app is architectured based on the user-centric approach, it creates a simplified and sophisticated user interface that allows any user to send money across international borders without any hassle. Also, its built-in calculator and online tracking facility support the users to precisely track the status of your transaction ans know how much teh recipient will receive after the transaction cuts. This helps users to send money accordingly.
Apart from the above-mentioned traits, Teeparam remains an efficient money transfer services provider which charges comparatively low transactions charges to make international transactions. This makes people depend on Teeparam for making international money transfers efficiently at the right period of time. All these top-class security features make Teeparam exchange stand out of the box as the best money transfer app for making efficient international transactions.
Teeparam is an FCA-approved international money transfer app that is capable of processing bulk transfers at ease in a secured ecosystem without any failures. with its advanced features and simplified user interface, Teeparam supports users to send money across international borders easily. The advancement in the internet created exceptional opportunities to make international transactions effectively. While the world can be accessed from your palm, it will not be efficient unless a service fails to offer a mobile application to enable their services on the go. Teeparam made this accessibility possible with its advanced and sophisticated mobile application. Download our advanced money transfer app and experience the benefits that the best money transfer service could offer. You can make transactions either via our website or mobile application to send money to Sri Lanka and other foreign countries from UK easily.