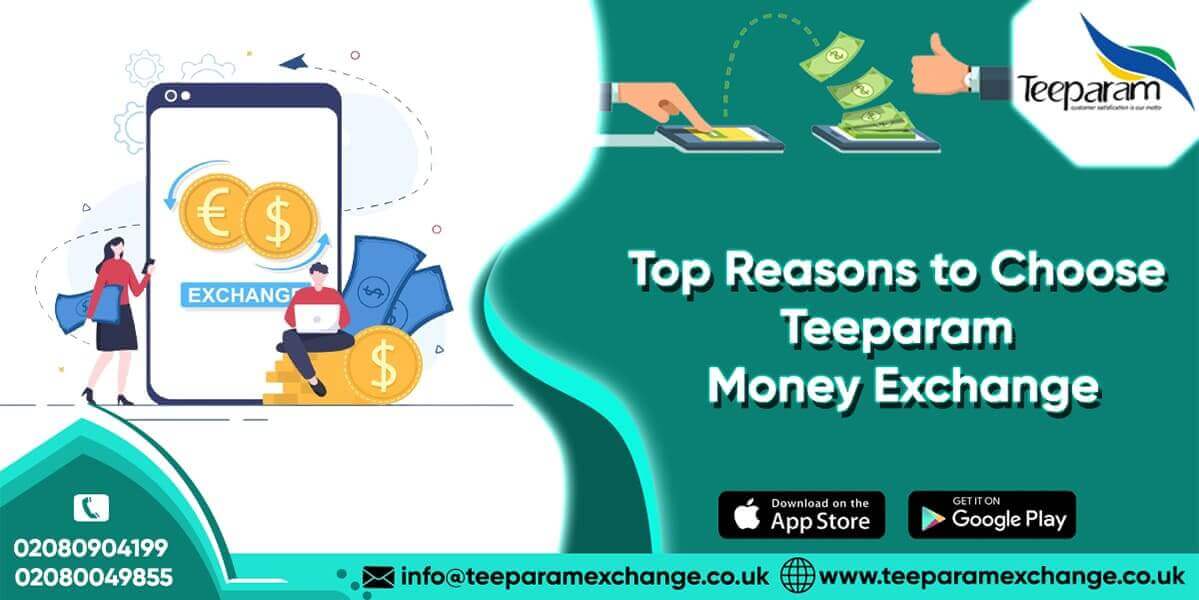 Top reasons to choose Teeparam exchange for international money transfer services
Teeparam Exchange is one of the best international exchanges that serve people to send money from UK to Sri Lanka other foreign countries. The top reasons to choose Teeparam are its low transaction charges, advanced features, security protocols, and simplified user experience. Online transaction services became eminent in today's fast-growing advanced infrastructure. These international money transfer services became handy for expatriates and travelers by serving their essential need of transferring money across international borders efficiently. This supports people to send money across international borders for their personal and business purposes. International money transfer services also supported businesses to spread their functions across the nations that supported the society to get benefitted multitudinously and also created the ability to bring new innovations to the world. By supporting businesses to extend their services across the globe, it supported people with enormous job opportunities and also made people improve their skills and knowledge to travel across international borders and work in different countries. Online international money transfer app services also support managing bulk funds in a secured environment and facilitate faster transaction facilities.
Security is one of the top reasons to choose Teeparam Exchange for processing bulk transfers across international borders. Teeparam Exchange follows all the top-notch security protocols which are essential for any online platform to prevent the platform from security threats and hacks. As Teeparam is advanced in offering all of its services, Teeparam takes security as an essential tool in today's digital ecosystem and manages to provide advanced security for its services by following all the top-notch security protocols.
Here we mentioned a few security protocols that keep Teeparam protruding as one of the top international money transfer service providers.
SSL protocol:
Website security is ensured by SSL, an internet encryption security standard. This SSL is a certificate for the website that confirms SSL encryption protection for the website. This website often begins with HTTPS and has a padlock next to the URL. This demonstrates that the website is protected by SSL. Following the protocol will help money transfer service providers protect user and transaction data from technical flaws.
PCI Compliance:
The primary security protocol that payment handling companies require is PCI (payment card industry). A company's annual transaction volume and size will determine the requirements that need to be adhered to. To protect users from security breaches and payment fraud, the protocol intends to adhere to a set of rules and regulations.
3 Domain security:
The final security measure that takes effect throughout the checkout process is 3D security. The card issuer follows this protocol to make sure the cardholder is using the card to process the payment by undertaking security authentication tests, such as entering pin numbers or using biometric scanners. The execution of card transactions is secured by this additional degree of security. This enables providers of money transfer services to safely oversee each user's payment procedure.
Tokenization:
Tokenization adds advanced security to client payment data protection. Tokenization is a service provided by payment processors that turns payment data into encrypted data. This tokenized data would be meaningless and worthless if a hacker had access to it. This makes tokenization a desired online payment security feature.
Other essential factors that makes Teeparam the best international exchange:
Reliability:
The most cutting-edge technology and dependable ecosystem were used in the development of the Teeparam Exchange platform in order to make sure that it would be powerful enough to withstand any catastrophic collapse and safeguard user data and ongoing transactions.
Faster transactions:
You can swiftly send money from UK to Sri Lanka with Teeparam Exchange because to its exchange's relatively faster transaction speed, which helps consumers complete cross-border transactions quickly.
Low prices:
Teeparam Exchange offers cheap remittance fees to make international transactions simpler and more effective. With guaranteed security and transparency, this enables expatriates to send money online from UK to Sri Lanka and other countries with ease. Additionally, Teeparam Exchange offers credits that are higher than the value of the currency used by your recipient. In contrast to other exchanges where the recipient is smiling, this results in your recipient receiving more money.
Convenience:
Teeparam Exchange offers users the greatest ease by giving them a variety of ways to conduct international transactions. Depending on their needs, users can conduct transactions using accessible substitutes. Thanks to the services offered here and the enhanced user experience, international transactions are made simpler.
Transparency:
Each transaction is safe and able to be tracked. Users may conduct important transactions with confidence knowing that their money is being managed in a secure and open environment thanks to Teeparam's transparent services. Users may keep an eye on their transactions and see how those that are already in motion are going thanks to the platform.
Price rate:
Teeparam offers a higher price rate for currencies during international transactions. Teeparam makes this possible with its reputation all over the countries and the proficiency in making international transactions. This supports the users in making international transactions over a certain period of time.
Outstanding services:
By providing the necessary tools to compute the amount that receivers will get after transaction fees, Teeparam Exchange delivers an efficient service for the comfort of customers to complete transactions effectively. You can also transfer money via both our website or our international money transfer app which is available on both Android and iOS.
Simplified user experience:
With its innovative user interface, Teeparam Exchange enables even a non-technical person to easily comprehend the procedure and carry out the transaction with just a few clicks. The user experience has a significant role in how simple and efficient a procedure feels.
Experience the Efficiency
Teeparam Exchange offers the most advanced services with its sophisticated ecosystem. Its top-notch security protocols and simplified user experience supports users to make hassle-free international transactions at a low transaction cost. Its friendly services and 24/7 consumer support the user to get instant solutions for their queries regarding international money transfers. Teeparam exchange mitigates the issues existing in online money transfer with its futuristic ecosystem and advanced user interface which are the top factors to choose Teeparam exchange for making efficient international money transfers. Explore Teeparam!