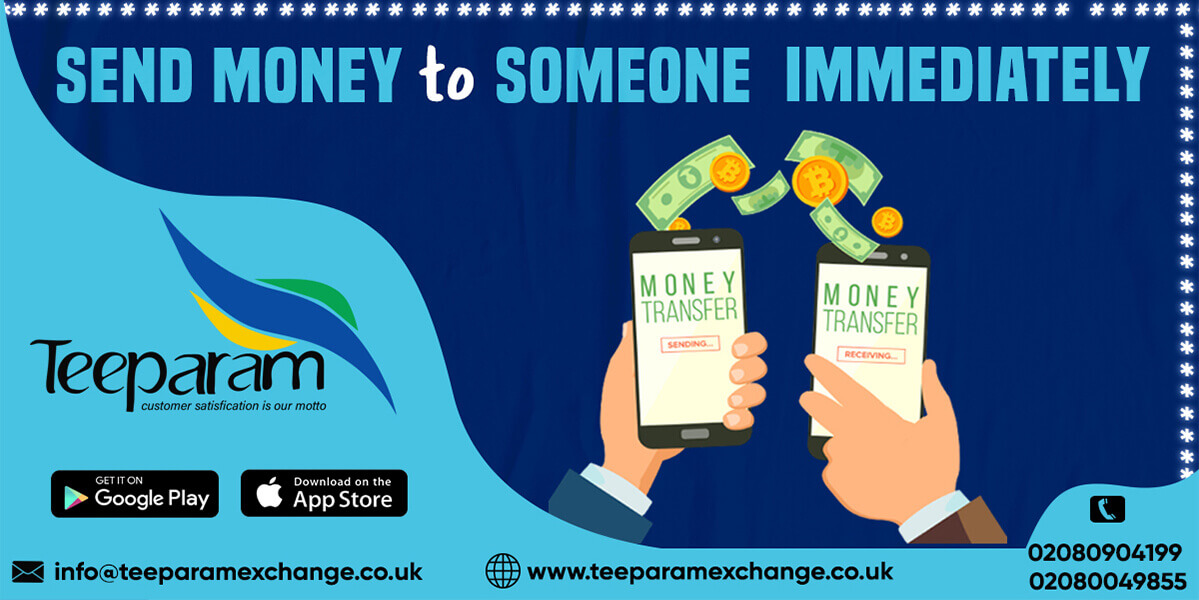 How can you send money to someone immediately?
Our technically advanced ecosystem offers enormous possibilities to send money to someone immediately. Before the advent of modern technologies and digital payment facilities, Money orders and wire transfers were the fastest and most efficient way to send money to someone immediately. The inception of digital payments and their wide adoption made it easy to send money to someone immediately with the help of International money transfer. This digital adoption is supported by many countries due to its impeccable services that benefit the country's economy.
These digital payment systems made the business and merchandise account for every single penny and transparent to the government in their tax payments. This benefits the wellness of the nation and also supports the government in boosting their economy with improved import and export facilities. These technical advancements and the magnificence showered by the internet supported people with instant transactions and also supported the merchants to receive payments effectively. You can also visit our website to know today exchange rate sri lanka or even other foreign countries.
This also supported people in making international money transfers instantly, which has been a time-consuming process that made people wait for weeks to send and receive money across international borders. Few online platforms supported the adoption of the digital ecosystem with rewards. This boosted people to adopt innovations that change their lives to perform effectively by enabling the instant services offered by the modern ecosystem. Teeparam Exchange is also one of the online platforms that strive to bring changes in people's life by amplifying the power of modern technologies.
Teeparam exchange is the best global money transfer app that provides instant money transfer services with its advanced features and top-notch security protocols. This facilitates people to send money to someone across international borders instantly and efficiently at a low transaction cost. This made many people adopt the services of Teeparam exchange and made it evolve as the best global money transfer app in the market.
Its simplified user experience and efficient services make users send money online to their loved ones, friends, and family across international borders. User-centric architecture of Teeparam exchange facilitates any user to make international money transfers easily within a few steps. Knowledge and education will not be a barrier to adopting the services of Teeparam exchange to make online international transactions. There are plenty of opportunities in the market that facilitates people to send money to someone immediately.
Some of the available options to make instant international transactions
Wire transfer
Wire transfer is one of the fastest and most efficient ways to send money online across international borders. This method is offered by banks to make instant transactions. Wire transfer is a form of electronic payment system that facilitates sending money from the sender's bank to the recipient's bank account, and it reaches the recipient. In this method, banks act as middlemen to process and execute the transaction. People should be aware of the transaction charges charged by each bank that is involved in processing the transactions while making international transactions via wire transfer.
Gift cards
The best alternative to electronic money transfers is gift cards. You can purchase electronic gift cards from third-party websites that are quickly emailed to your receiver. Gift cards won't be a wonderful choice in cases of medical emergencies. But gift cards are a quick method to send money and support loved ones without sending cash in situations like aiding your family with extra grocery money or paying for school supplies.
Digital payments
Modern technologies benefit us in various ways that make our lives easier and more efficient. These advancements also make the banking process easier and more secure with its advanced software and mobile applications. These money transfer apps support users to make instant transactions in a secured ecosystem.
Money Orders
Money orders function similarly to cash for the recipient but are safer. Money orders allow you to keep track of your payments and guarantee that only the people you wish to use them for can do so. As mentioned above, there are plenty of options available in the market provided by advanced technology to make international transactions instantly.
In comparison to the above-mentioned services, Teeparam Exchange offered the fastest services at an efficient cost and evolved into the best money transfer app in people's minds. Its advanced features like online tracking and inbuilt currency calculator support the users to track the status of their transactions and exactly know the amount the recipient receives after the transaction cuts, supports the users to send money according. This facilitates the immigrant workers and expatriates to send money to someone immediately.
Teeparam top-notch security protocols support the platform to manage and process huge funds effectively without any failures. This supports many businesses to execute their service in different countries and make bulk transfers across international borders efficiently. Also, Teeparam offers comparatively higher exchange rates that benefit the users with higher rates in their exchange in comparison to the other international money transfer service providers. This is made possible by the Teeparam money transfer app with its influence in financial institutions across various parts of the world. Also, Teeparam exchange schemes like refer and earn, Free money transfers support users to experience the advancements and efficiency of Teeparam Exchange.
Send money to someone immediately with the best global money transfer app
Teeparam provides the most advanced user-friendly mobile application for user convenience that facilitates the users to make international transactions in simple steps on the go. Users can track the status of their transactions just from your palm with a few nudges. Also, the Teeparam exchange provides the most advanced wallet to manage your funds efficiently and make international transactions more efficient with frequent offers. The mobile application is available on both android and iOS. Download and experience Teeparam from the play store and Appstore.