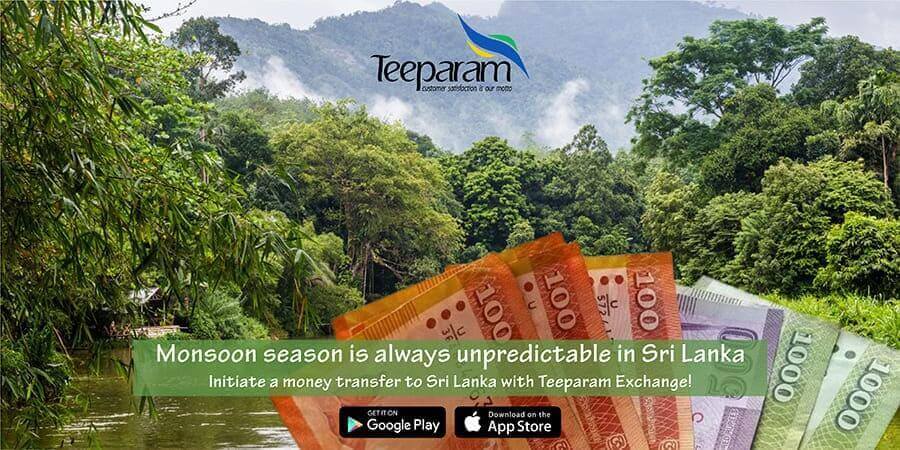 Monsoon and Money Transfer to Sri Lanka: A Short Brief from Teeparam
Sri Lanka, the pearl of the Indian Ocean, is a diverse island with truckloads of kindness, a treasure trove of golden warmth, and regions of sunny charm, to name these are the few qualities that distinguish Sri Lanka.
This tropical paradise is rich in history, culture, spirituality, wildlife, and adventure, all of which are present in equal measure. This diversified landscape is a traveller's dream come true, from the warm shores to the vibrant beaches, lush hillsides, covered plantations, and inviting woods.
There are two different seasons in the country: dry and rainy. To comprehend Sri Lanka's climate, one must first get acquainted with the country's two monsoon seasons: the south-western and north-eastern monsoons. Between May and November, the former delivers rain to Sri Lanka's south-western area, which stays dry from December to April. Between October and January, the latter delivers rain to Sri Lanka's north and eastern coastal regions, while between May and September, it is dry.
Although this may be the fact, the rains are quite unpredictable in Sri Lanka, however, we at Teeparam Exchange had given a little fact about the monsoon season in Sri Lanka that help you get a faint idea of the monsoon season so that you can help your loved ones and make a money transfer to Sri Lanka if monsoon rages over like the Maha Cyclone.
Why Choose Teeparam Exchange for Money Transfer to Sri Lanka this monsoon season?
Monsoon season can bring a copious amount of rainfall in Sri Lanka, but you can brace for it and have it all covered for your friends, families and loved ones with a quick financial aid if some emergency props out. And this where Teeparam Exchange comes into the rescue, for we never fail you.
We are always and consistently open even, so your worry is solved.
Cost-effective - Teeparam Exchange is good to provide money transfers at a good rate every day from Coventry to Colombo and around the world.
Secure -We use enterprise-grade security and take consideration in guaranteeing the safety, fast and convenience of Teeparam Exchange Money Transfer.
You need to develop a clear plan on how to manage your currencies and to ensure that you secure the best possible rate. We offer the lowest transfer fee and best exchange rates.
We provide same-day transfers and the recipient receives the amount in a minute.
You can also use the Teeparam mobile app for sending money to Sri Lanka this monsoon season.
Conclusion:
With Teeparam Exchange you can make quick, reliable and trustworthy transfers and this is what we are known for. With Teeparam Exchange you will always get honest answers, no hidden fees and you get what you see. The recipient in Sri Lanka can collect cash or the Sri Lankan Rupees will be deposited directly to their Bank Account. We have made both payment options available for you, bank transfer, pay by card at one of our branches; choose what best suits you.
So, let not this monsoon season in Sri Lanka stop you from sending your money to your loved ones. Choose Teeparam to offer a helping hand.