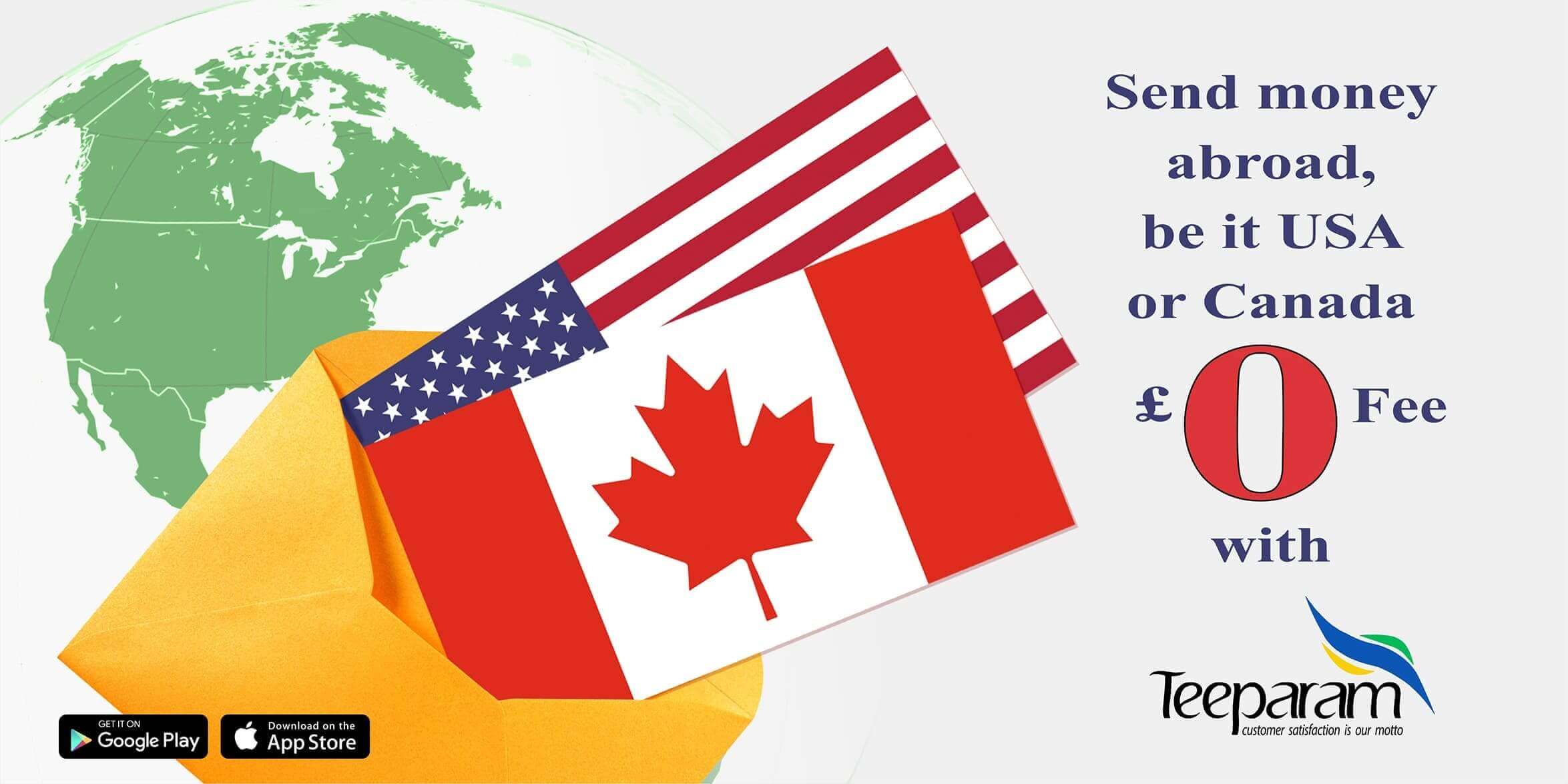 Best Ways to Transfer Money to Canada and the USA
Send and Transfer Money for Free to USA and Canada?
Send money abroad, be it USA or Canada, at ZERO processing fee with Teeparam Exchange Limited.
We are a professional money transfer agency, based in the United Kingdom. Our professionals help expatriates, students, and business professionals living in the UK. We are a reputed agency that offers same day or next day service.
Why Choose Teeparam Money Exchange?
At Teeparam, we keep the processing fee as low as possible and rates at competitive pricing. Now you can remit money directly to your loved one's bank account. Choose the most convenient and fastest option for sending money to the USA and Canada and the best thing about that transfer is that all are fee- free!
So, why choose Teeparam?
We offer the best competitive pricing in the market
Speed money transfer services to India, USA, Canada, and Sri Lanka
Built mainly for immigrants, expatriates, students, and professional working folks
Best customer care and timely services
We offer transparent services with no hidden charges
Zero processing fee for money transfer
How It Works?
Teeparam offers money transfer services in 3 easy steps!
Step 1:
Sign up and upload your identification document and address proof for verification.This is a part of compliance policy with FCA and HRMC regulation policy.
Step 2:
Verification and Account Activation.The compliance officer does a quick check and verifies the documents, usually a 15 mins process on a working day. We don't do credit checks. Once the registration process is done, you will be directly signed into the system. The transfer would be initiated once the verification process is completed.
Step 3:
Initiate Money Transfer Using Available Payment Options.Once you're signed in to the system, you can add recipients to whom you want to initiate the transfer. After the successful addition of beneficiaries, you can initiate a money transfer request and pay for your transfer.
You can choose from the list of payment options available. One of the payment options we offer is paying Cash directly at one of our branches. From there, your payment will be processed and transfer will be done.
List of Required Documents
Photo Identity Proof (Passport, EU Nationality Card, or UK Driving License)
Address Proof (Utility Bill, Bank Statement, Council Tax Bill not less than 3months old)
Source of Funds Document
Company Houses Registration
Company Address Proof
Company Bank Statement
Mobile Application
At Teeparam, we have Mobile Application for easy and secure money transfers. Now transfer money at home or on the move with our user-friendly application:
Quick boarding
Manage Receivers
Track Your Transfers
User-friendly
Secure and Reliable
About Teeparam
With Teeparam Exchange, remit your money to Canada and the USA at ZERO processing fee. Our professionals assist you in the right way and help you choose the right payment option. We are the most reliable and trustworthy agency that offers money transfer services at competitive rates. To know more information on the money transfer process,
check out @ Teeparam Exchange Limited