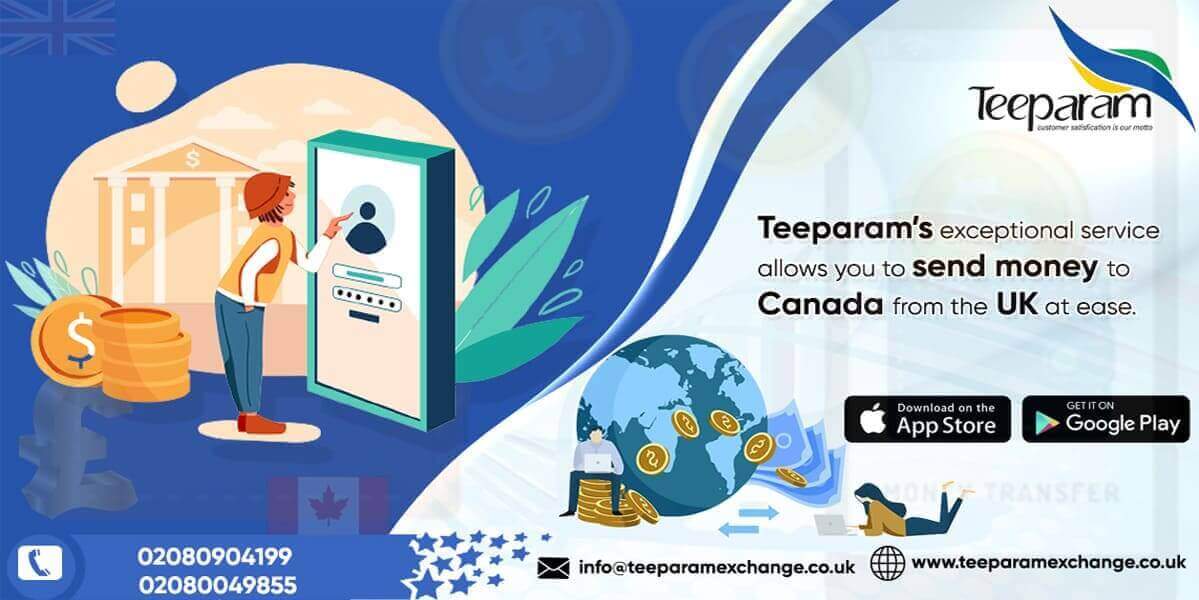 Teeparam's exceptional service allows you to send money to Canada from the UK at ease.
Teeparam exchange offers enormous services with exciting benefits to send money from the UK to Canada instantly with utmost security and transparency. Canada is the only country that sustained the economic recession due to the global pandemic. The employment opportunities and benefits for the immigrants are exceptional. This made the country open up for multiple business opportunities that made the country sustain the economic drop while other countries got affected drastically. These immigrants residing in Canada made the country to experience enormous international transactions and filled its treasure with remittance fees. This remittance also plays a major role in Canada's economy as the country supports and provides exceptional facilities for migrant workers, students, and tourists. This makes people send money to Canada from various regions of the world. Tourism is also the major attraction point for Canada as it presents beautiful landscapes, vegetation, and an amusing shopping experience with its trademark culture.
Let's know about Canada deeper
Canada is a country in North America that stretches from the United States to the Arctic Circle in the north. The vast Toronto, the west coast film capital Vancouver, French-speaking Montréal and Québec City, and the capital city Ottawa is also major cities. The Rocky Mountains' lake-filled Banff National Park is one of Canada's enormous areas of wildness. Niagara Falls, a famous series of enormous waterfalls, is also located here. Also, Canada is known for its strong employment market which is actively providing employment opportunities for immigrants due to its lack of population and skill shortages in many industries. This supports the country to support the growth of its economy which also supports the immigrants to have a good life with employment and salary. The immigrants from various parts of the world made Canada a culturally diverse country which allows the people to experience and enjoy different cultures and spread knowledge and love. Even though the country is filled with immigrants, Canada manages to have the lowest crime rates in comparison to other countries due to its culture, security, and humble ecosystem. With overwhelming job opportunities, Canada facilitates exceptional healthcare facilities that support immigrants to feel safe and healthy. The educational system of Canada is also one of the major attractions for immigrants who even move from their homeland for studies. This education facility allows the immigrants to settle in Canada with permanent residence for providing better education and infrastructure for the children with versatile culture and knowledge in Canada. All this makes people get attracted to Canadian culture and lifestyle which makes Canada welcome millions of immigrants every year for education and employment.
The UK is one of the nations that has built strong relationships with Canada with its manufacturing industries and also a lot of people visit Canada often for education and leisure as Canada prospers with abundant beauty with its mesmerizing landscape and culture. This makes both countries experience transactions across the borders as a result of spreading love to family, friends, and Business purposes.
Teeparam exchange becomes handy for these people by assisting to send money to Canada from the UK to Canada and to other countries across the globe with its exceptional features and simplified immersive user experience. International transactions include transaction and service charges which make the people fall into some traps with local money transfer agencies and also sending large amounts of money will be risky in unauthorized agencies. Teeparam exchange is an FCA-approved online international money transfer provider that undergoes advanced security protocols that allows the platform to securely manage your funds and process international transactions effectively without failures. This makes the expatriates trust Teeparam exchange to make international transactions and with its simplified user interface.
To send money to Canada from the UK efficiently, Find the optimal time period that offers higher rates for your currency, and make transactions accordingly. Currency value differs from one country to another based on the country's economy and ad trade. So finding the optimal period with higher exchange rates will make your transaction beneficial. Teeparam exchange offers the live market rate and in addition, it will add value to the transactions with some higher exchange rates which will be rewarded at each time of your transaction. This supports the daily wagers who work in foreign countries to make international transactions, even though not much but a penny is also valid when it is needed. Teeparam exchange makes the service possible through its relationship with financial institutions across the world.
Highlighting features of Teeparam's International exchange service:
Live market rates:
Teeparam exchange facilitates the users to make international transactions with live market rates. This allows the users to track market fluctuations and make profitable transactions with high exchange rates.
Convenience:
With multiple modes of transaction, Teeparam exchange provides the utmost convenience to the users to make their transactions effective. This supports the users to choose their mode of transaction based on their convenience.
Higher exchange rate:
Teeparam exchange offers high exchange rates for every transaction which benefits it users in the long run, This is made possible by Teeparam's relationship and influence in financial institutions across the globe.
Customer support:
Customer support is essential for any online platform. International exchange services must provide customer support to assist with the transaction process and queries that build trust and convenience for the users. Teeparam Exchange makes it more valuable with 24/7 customer support with trained professionals to assist you in sending money to Canada from the UK with efficient options available in the market.
Steps involved to send money from the UK to Canada with Teeparam Exchange:
Step1: Register and signup with the Teeparam exchange
Step2: Get KYC done.
Step3: Enter the sender details and recipient details.
Step4: Find your market rate and convenience before transferring money.
Step5: Enter the amount you want to transfer.
Step6: Initiate the transaction with just a click.
Enable the most secured and efficient services of Teeparam exchange to send money to Canada from the UK and the rest of the world to connect with and spread love to your friends and family with essential needs. Teeparam exchange offers exceptional assistance with exemplary features to make international transactions with best-in-class services in the market.