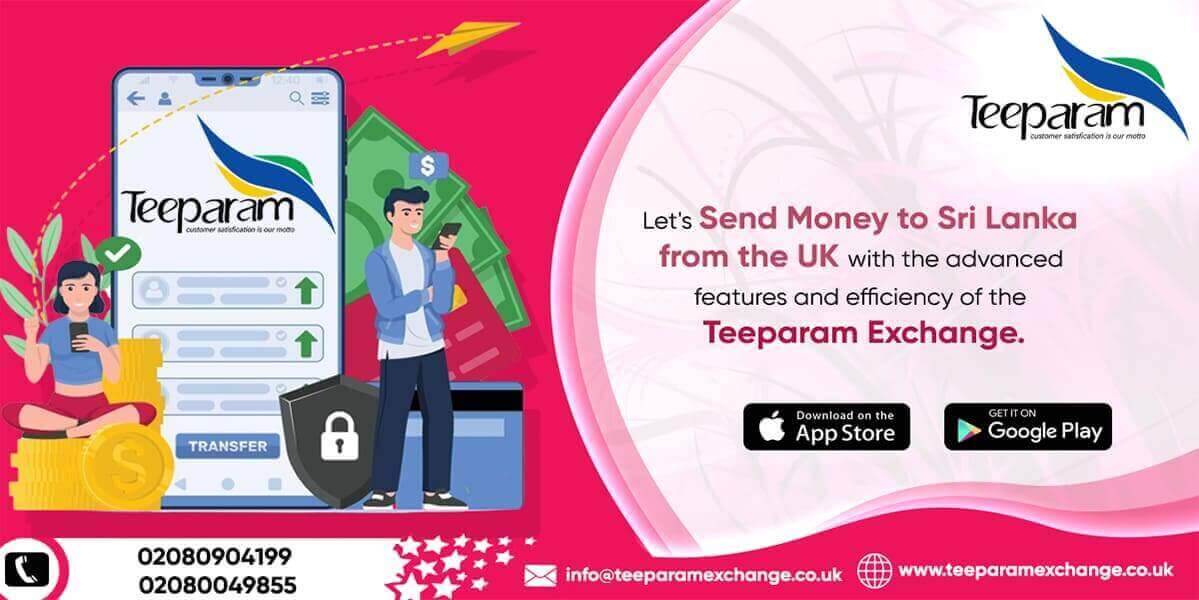 Let's send money to Sri Lanka from the UK with the advanced features and efficiency of the Teeparam exchange.
Planning for a business trip? Or work abroad? Or to study abroad? Or even a trip around the globe? Teeparam Exchange helps back with its best international exchange services that assist to send money to Sri Lanka and to any other country from anywhere around the World. Just imagine the olden days that took years to understand the currency, economy, regions, international borders, and its commodity. The rise of modern technology and its magnificence offered exceptional possibilities and benefits with the significant innovation called the internet and its applications that served enormous services online with the power of the internet.
The days we spent in banks for a transaction or withdrawal of money are gone by the power of the internet and its advanced services. The same assisted in traveling across the globe within hours. The power of the internet and its advanced services are impeccable which created a major shift in our traditional inefficient routines and created a sophisticated service infrastructure. online exchange platforms played a huge role in this transformation by supporting people to male international transactions instantly and efficiently. Teeparam Exchange handles the power of modern technology effectively and assists expatriates, migratory workers, students, and tourists who live in various parts of the world. With its advanced services and exceptional customer services, Teeparam exchange offers exceptional services to make international transactions efficiently with all the assistance a user needed to send money across the international borders. Online international money transfer services like Teeparam Exchange take care of the regulations and the variations in currency value and other international transaction formalities and offers a hassle-free experience to make an international money transfer with a simplified user experience. Teeparam Exchange follows advanced security protocols to offer a secured ecosystem to manage funds and make transactions without any flaws. This allows the user to gain trust in using online platforms to male transactions across the borders at ease.
Online exchanges like Teeparam offers the best international money transfer services with additional support to send money to the countries like Sri Lanka. As Sri Lanka is experiencing a serious economical crisis many expatriates wanted to send money to Sri Lanka to care for their families. Teeparam Exchange allows making such transactions effectively with all the modern facilities with top-notch security protocols. Many people have been moved from Sri Lanka to various parts of the world in search of job opportunities, education, etc. Developed countries like the UK, Canada, USA, and Gulf regions have welcomed these people due to the shortage of manpower and skills in the country in which the majority of the manufacturing, import, and export takes place. Many technically advanced countries seek employees from developing countries like Sri Lanka for their skill, dedication, and the way they tackle the situation with their ability to think and strong instinct as they came from a very hard working class and poor infrastructure. The mindset of solving problems on daily basis to fulfill their essential needs made these technically advanced countries seek resources from such regions of the world. This assisted the migrant workers to send money to Sri Lanka to take care of their families in the needful situations. Also, the technical advancements in infrastructure and growth of the technology allowed the people of developing countries to gain the necessary knowledge and skills to satisfy the needs of these developed countries which offer a good life with decent pay and accommodation to make their living. Teeparam assists such essential needs by offering economical solutions with multiple modes of transactions and other convenient features to transfer this hard-earned money to their homeland. This allows the people who make regular international transactions to engage with Teeparam Exchange which provides world-class money transfer services with utmost transparency and security.
Countries like the UK have welcomed so many migrant workers to work in their manufacturing industries in order to support their imports and export which raises their economy. Its diverse infrastructure and humongous manufacturing plants allowed many people to gain employment opportunities in the UK. Such convenience and employment opportunities in the UK made people move from various parts of the world especially, from developing countries like Sri Lanka. As many people move from Sri Lanka to the UK, These people intend to send money to Sri Lanka from the UK to support their homeland and their families residing there. This remittance from migrant workers and expatriates from various countries makes a huge contribution to the economy of Sri Lanka. Also, the humongous traction and frequent international transaction between the UK and Sri Lanka made Teeparam Exchange provide higher exchange rates when compared to other online international money transfer service providers which support expatriates to send money to Sri Lanka from the UK efficiently.
Few tips to send money to Sri Lanka From the UK more efficiently:
Check to see if the LKR exchange rate is favorable to you:
Keep track of the currency's value and figure out when the best time is for it to deteriorate. As a result, your overseas transaction will be more efficient and profitable. Locate the most competitive rate and finish the purchase.
Find the best international money transfer operator to send money to Sri Lanka from the United Kingdom.
Compare the various international money transfer alternatives available to help you send money to Sri Lanka swiftly and conveniently from the United Kingdom. Many international money transfer services such as Teeparam let you send money to Sri Lanka while preserving the highest level of security.
Choose the service that best meets your requirements:
Find the best service that meets your needs and budgets, including transaction costs, transaction time, and limit, as well as features that provide an easy and pleasant user experience.
Sign up and begin your transaction after you've found efficient and effective transaction services.
Before initiating traction, be sure you have all of the documentation you'll need to complete the transaction. When you make a transaction, you will be asked to submit all of the appropriate paperwork.
Teeparam Exchange assists you with the most advanced technology that assists to send money from the UK to Sri Lanka Efficiently with multiple modes of transactions for users' convenience. Teeparam exchange is approved by the financial conduct authority for offering exceptional money transfer service in a secured ecosystem. Explore Teeparam exchange and avail abundant benefits while making international exchanges.