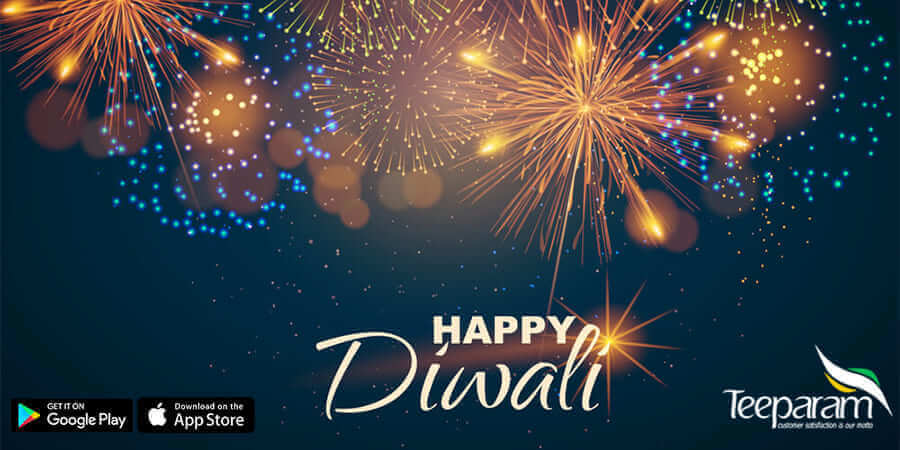 Transfer Money this Diwali with Teeparam
What is the first thing that comes to your mind when you think of Diwali? Lights, candles, diyas, the smell of delicious sweets and savouries, getting together with your loved ones and much more. Right? This happy occasion of merrymaking is celebrated popularly across countries such as the United States, India, United Kingdom, Canada, Australia, Sri Lanka, and much more.
This festival has a tradition of exchanging gifts and shopping is quite popular during this festival time. The significance behind this exchange of gifts is to convey your love, respect, care, and good wishes to those you hold close to your heart. Send money home this Diwali with Teeparam Exchange Limited.
Teeparam recognizes this time as an auspicious time to share happiness with your friends and family across the world. However, considering the distance between the family and you, Teeparam extends their support in unique ways by serving as a platform that facilitates money remittances across borders.
Choose Wisely, Choose Teeparam
Though the essence of celebrating this festival remains the same in our ever- changing lives and cultures, the way we share the gifts has evolved. Especially those who are away from the family - separated by different time zones and distance. For friends and family, who are overseas, one of the most convenient and thoughtful ways to show your gratitude and remembrance is to send a monetary gift.
Sending money internationally is no longer a tedious or expensive process. Though you need to plan before sending the money, get to know about the services and advantages before proceeding further. Teeparam Exchange Limited helps you to make secure, reliable, and quick money transfer in no time. We employ the latest security policies and technology to make the process safe and secure.
When is the Right Time to Send Money as Gifts?
You need to identify the key factors to send money as a gift this Diwali in order to find out the ideal answer for this. Below are the key factors you need to check in before you transfer money:
Exchange Rates:
One of the important factors that you need to consider before transferring money. Try to get the highest exchange rate possible. Compare rates with multiple service providers before choosing one.
Transfer Fee:
Next important factor in the list. Money transfer agencies typically charge a good amount of processing fee for their services. Compare and find out the company that offers the lowest processing fee.
Gift Tax:
Tax that is levied on a taxpayer who gives money or other items of value. If you are sending money more than INR 50000 to a recipient who is not a relative of you, as determined by the Income Tax Act, then the recipient is liable to pay tax on the aggregate value.
Offers and Deals:
Some agencies offer to waive off transfer fees. Check out the latest offers and deals by money transfer companies before finalizing the one.
About Teeparam
Celebrate this Diwali happily with Teeparam, a leading and reliable money transfer agency that offers the best deals in the market at an affordable cost. We recommend you compare the exchange rates, transfer fees, and deals before choosing us. To know more check out @ Teeparam Exchange Limited